Now in Runaway Bay

English

Language

JMD

Official Currency

Or you can call
Hotels in Jamaica for vacations to a reggae beat
Where is Runaway Bay?
Runaway Bay is located on the Jamaican coast and is considered to be one of the most beautiful natural areas in the region.
The first thing that will leave you speechless when you arrive in Jamaica is that, despite being only 240 km long and 80 km wide, it is one of the most naturally diverse islands in the Caribbean. And one of the most mountainous. Its hot, humid climate feeds the vegetation in such a way that it almost appears supernatural, thus creating idyllic scenery where you can enjoy the exuberance of this magical land.
At hotels in Jamaica, specifically those in the Runaway Bay area, you'll find plenty of entertainment and leisure options, ideal for those that want to dance until dawn or lie under the sun in search of the ultimate in relaxation.
Jamaica is diversity, freedom and feeling. But, above all else, Jamaica is the land of Bob Marley. It's the land of music. The best place in the world if pure rhythm is your thing. It was here that Bob Marley was born as well as some of the most vibrant sounds in history, such as ska, dub, reggae, calypso… As well as the Rastafarian culture that sprang up around it and that today is known as one of its trademarks.
What to do during your vacation at Runaway Bay?
Among the natural attractions that the spectacular Jamaican mountains offer up are the impressive waterfalls that dot its jungles and natural parks. Some of the most famous are Dunn's River Falls, which are surrounded by a natural park belonging to the Ocho Ríos area.
Did you know that the famous Blue Mountain coffee was born in these mythical mountains? But Jamaicans don't just live on coffee. The best tables in the best restaurants in Jamaica always include seafood and shellfish that have been grilled; meat, especially goat curry; cassava, yam, rum and plantains. Among the most attractive and aromatic dishes that you must try are "Jamaican Festival", "Ackee", "Breadfruit" and "Jerk". Each mouthful will take you to a new world of sensations.
Where to stay at Runaway Bay?
When booking your all-inclusive vacation at Runaway Bay, you'll find the perfect combination of nature and service. Bahia Principe hotels are 5-star category all-inclusive hotels specifically designed for families or just for adults. And best of all, you'll find special offers to make your dreams a reality.
#BahiaPrincipeMoments
This is how our guests shared their experiences on social media
How to get there?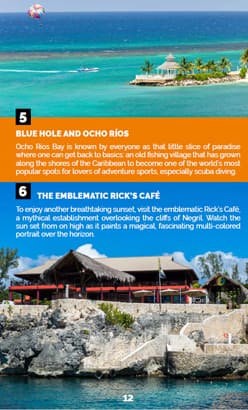 Runaway Bay free guide
Are you ready to visit Runaway Bay? Download our free guide and start planning for your trip. How do we process your data?
Your data will be processed by MANAGEMENT HOTELERO PIÑERO S.L. for the purpose of sending you commercial communications, managing the Grupo Piñero distribution list, and creating commercial profiles. This is based on our legitimate interest, your consent or your request to receive communications via electronic means when registering for the newsletter. We will not disclose your data to third parties, except under legal obligation. You are also entitled to access, modify and delete data, as well as other rights explained in the additional information of the Privacy Policy.
Discover other destinations at Bahia Principe