What to do in Tenerife with the kids?
This post is also available in:
Español (Spanish)
Tenerife is the island of eternal spring, where any time of the year is a good time to disconnect from your day-to-day life and connect with your loved ones. Share, laugh, enjoy with your family…
You're already itching to plan your trip and decide what to do in Tenerife with your family, right? Don't worry, we'll point out the essential plans to include on your trip to Tenerife.
Theme parks and attractions to visit with children
Siam Park: Europe's most spectacular water park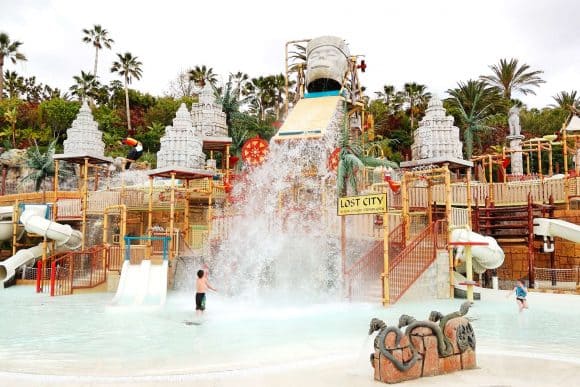 A water park designed for the whole family to have fun, with the craziest slides and refreshing pools. You'll experience an incredible adventure!
Located in Costa Adeje, it is very easy to get to. You can get there on the Guagua Siam service, which is free of charge! The bus picks up visitors from Los Cristianos, Las Américas and Costa Adeje.
The park is open all year round and offers a wide variety of alternatives to awaken your adrenaline, or for you to take a break and eat with your family.

Loro Parque: a wonderful tropical park
Located in Puerto de la Cruz, it is home to an endless number of living wonders from all over the world: including tigers, dolphins, monkeys, etc. Make sure to visit the aquarium and see the marine life up close.
In addition, you will have the chance to enjoy various shows that are scheduled throughout the day, places to rest, and also try delicious food, before going on to explore more.

We recommend using the Loro Parque Express, also known as the "yellow train." It is a free passenger pick-up service in Puerto de La Cruz. It leaves every 20 minutes and is a round-trip service.
Please note that children under 6 years of age do not pay, their entrance is free! And there are special prices for children between 6 and 11.
Aqualand: Cool down and have fun with your family
Feel the speed of the slides, enjoy the heated pool with waves and surrounded by rides, or relax in the outdoor spa. Aqualand is a water park located in Costa Adeje and is perfect for the whole family.

The park is open all year round, seven days a week. We recommend taking a look at their website to buy tickets, as there may be advantages to buying online. In addition, families can purchase special tickets such as the Family Pack.
Outdoor activities to do with your family
Visit the Teide: the most impressive volcano and a World Heritage Site
If you're yearning for an adventure, to explore unique and incomparable landscapes, a visit to the Teide is sure to impress you. Bear in mind that there are restrictions for who can go on the excursion, check the minimum age required as well as the conditions.
Martiánez Lakes
The Martiánez Lakes can be found in Puerto de la Cruz and are in fact the largest natural pools in Spain. It is a leisure complex for all ages with views of the sea and the Teide. You can enjoy a large artificial lake surrounded by swimming pools for adults and children, gardens, terraces and restaurants.
Whale watching
While in Tenerife you should take advantage of one of the most interesting excursions offered by the Atlantic Ocean: whale watching. Boarding a boat for a voyage in search of whales and other marine life can be a fascinating experience. You might spot blue whales, killer whales, dolphins and millions of small, multicolored fish that dot the seabed with life. It's definitely an interesting option if you're traveling with children. 

Ideal beaches to visit with children
Las Teresitas Beach
As it's only a stone's throw away from Santa Cruz, you have the fun option of renting bikes to go from the seaside promenade to the beach.
El Camisón Beach
Found in the municipality of Arona, a very central location. You will find a wide variety of leisure offers and activities to surprise the little ones.
Fañabé Beach
Located in Fañabé, the beach offers multiple attractions for children: bouncy castle, jet skis, parasailing and an inflatable banana. And parents who are also looking for a place to relax will find Balinese beds, beach bars and hammocks. In addition, if you're going there by car, there's a large parking area nearby.