Hot stone massage with essential oils in Jamaica
This post is also available in:
Español (Spanish)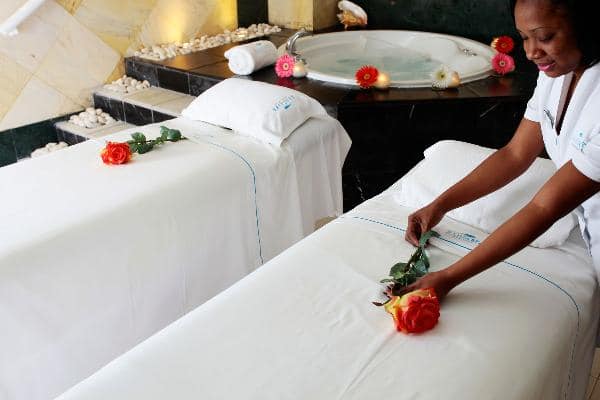 Imagine yourself enjoying a relaxing couples massage in the heat of the Caribbean. An oasis of peace, allowing your body to regain positive energy that daily routine leaves you without. This paradise exists on earth, specifically in Jamaica, and it is called Bahia Spa.
All the treatments at our Spa help recuperate mind & body balance. However, if there is one you should not miss trying in Jamaica, it is a couples hot stone massage with essential oils, ideal for reducing muscle tension.
And this isn't everything. Body treatments:
Chocolate: 100% pure native cocoa is used in this chocolate body treatment, supplying minerals, vitamins and trace elements to the skin. A firming, nourishing and antioxidant-filled treatment.
Oats and honey: an intensely hydrating treatment that returns softness to the skin.
Coco: a local product that hydrates and nourishes the skin.
Aloe vera: a local product that hydrates and produces regeneration in the body.
However, this is only a part of everything you can experience at our Spa in the Caribbean. Relieving all kinds of stress, muscle cramps brought on from the busy lives we lead; improving blood circulation and decreasing blood pressure are some of the benefits you will see after this all-over-body massage. Just leave it to the professionals.
If you want more, try a reflexology session to stimulate organ function, a hot stone massage to decrease muscle tension or an overall chocolate massage to infuse vitamins into your skin. A world of sensations awaits you on your next all-inclusive holiday to Jamaica.
Start planning your trip to the Caribbean thinking of one of the most exotic and romantic destinations in the world; Jamaica. A place where you will have the luxury of enjoying an unforgettable holiday with your partner.